Manish Arora spring/summer  2017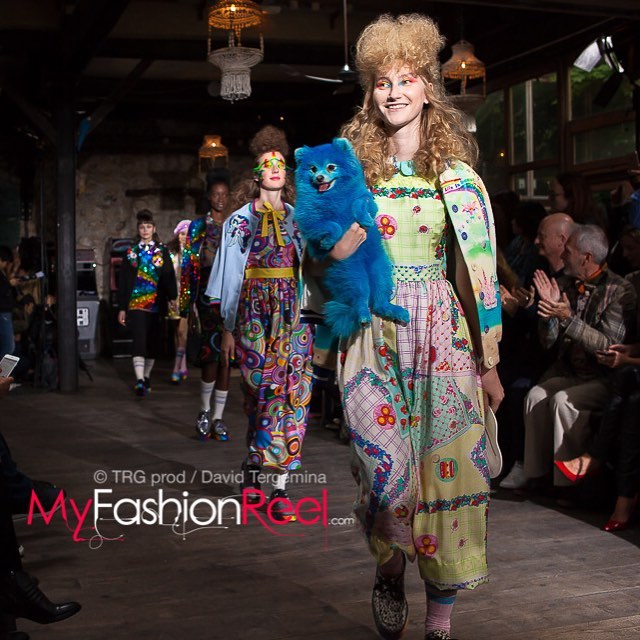 LIFE IS BEAUTIFUL
For Spring Summer 2017 Manish Arora conjures up a technicolour utopia rendered in rainbow shades and shimmering sherberts worn by a jubilant cast of shiny happy people. 50s silhouettes hark back to an era of mid-century optimism in a retro reality where cartoon housewives wear hourglass cotton day-dresses in table-top prints adorned with classic Americana tropes like ice-cream sundaes and creamy cupcakes. Flamingo festooned, swaggering sailor boys in nautical stripes and sugary tones straight out of a Pierre et Giles portrait flirt with My Little Pony pin-ups thanks to a new collaboration between Arora and the iconic equine this season.
Teddy-boy brothel-creepers are customized in bubblegum shades by Paris-based artist Nikos and necks are buttoned with glittering hearts, mirrored anchors and pearly toadstools created by iconic London artist Andrew Logan. Fantasy prints and embroidery feature dreamscapes composed of floating fairytale castles, hot air balloons and rainbow filled skies in blissful blues.
The ever-present rainbow motif is reinterpreted as swirling circles of primary colour on sweeping sundresses in collaboration with Indian artist Bharti Kher renowned for her bindi artworks, and also appears as disco sequins on fitted dresses and varsity-style sporty trouser-suits or as bursting rays of colour on knitted tanks and bombers. Pastel mermaid sequins wrap around fishtail skirts teamed with pearlescent embroidered seascapes shot through with the hyper-real day-glo of coral and tropical fish.
The collection is a joyous celebration of life and the natural world. Tropical flowers and degrade sequined toucans embroider lace effect silk organza that resembles luscious leaves in rainforest green. Tie-dye silk chiffon applique birds of paradise flutter over the skirt of a sunshine yellow dress and bugle bead peacocks strut on a sky-blue tulle gown in a rainbow finale of coutureproportions.
© photos – David TERGEMINA / TRG prod www.trgprod.com
SHOW PRODUCER: DEVI SOK
STYLIST:  JOANNA SCHLENZKA
HAIR: LAURENT PHILIPPON FOR BUMBLE AND BUMBLE
MAKE-UP: KABUKI FOR MAC PRO TEAM
MAKE-UP PROVIDED BY MAC
NAILS: MARIAN NEWMAN FOR MAC
BROOCHES: ANDREW LOGAN
SHOES: NIKOS
MUSIC: TAPAN RAJ
MIdival Punditz